After Buying a Used Car
After buying a used car people want to start enjoying their purchase immediately. They probably make the rounds visiting friends and family to show off the new ride.
Within a few days the euphoria of a new automobile begins to wear off. Now this car enters the next phase of its relationship with you.
This often means it becomes the daily driver, getting you back and forth to work. Maybe it becomes a grocery getter or a shuttle bus for friends and family.
Before you know it, time slips bye and this vehicle turns a year old. What's my point to all this? The owner skipped something extremely important at the very beginning of this long relationship between human and car.
The fourth word in the first paragraph is used. This means the car lived a life with a previous owner. And we need to know more about that past life.
In this article we'll cover the first, second and third thing to do after buying a used car. When completed, you can embark on a long and happy relationship with your new used ride.
Make sure to read the final thoughts section at the bottom. I provide an example of how following my own advice worked on an old Infiniti I bought.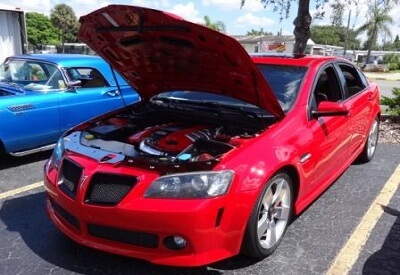 Pontiac G8 Sport Sedan
Take This Car to the Dealership
What's the first thing you should do after buying a used car? Take this vehicle in for its first service at the dealership. If Toyota built it, then go to a Toyota dealer to get the oil changed. A lot of times, the seller says they just performed an oil change to get it ready for selling.

It doesn't matter whether it actually needs an oil change or not. You need to register yourself in the factory notification system as the new owner of the vehicle.
Another thing happens when you take this automobile in for a dealership service. Not only are you documented as the new owner, but the mileage and the date of service becomes a permanent electronic record.
Let's cover why this simple maintenance service becomes so important. When you drove home in the vehicle, Toyota wasn't notified that you're the new owner.
Obviously, this goes for all makes and models without exception. If the vehicle became part of a safety recall the factory would have absolutely no way to contact you.

With service completed at a dealership you're now in the Toyota system as the new owner. Any recalls from that date forward will go to the address listed on the dealership service department repair order.
I also mentioned the electronic record. When trading or selling this car in the future the prospective buyer might run a vehicle history report.
Dealerships participate in the most popular vehicle history reporting services available today. In other words, when the new buyer runs a Carfax they'll see that record of when you took it into the dealership for service.
This also helps document the time frame you purchased the vehicle along with an accurate account of the current miles.
This kind of solid information can help a private sale buyer feel safer with their purchase. This also helps the trade in value if you decide to go that route.

Evaluate the Safety of this New Used Car
Chevrolet Impala Used Car
Obviously, this step should have taken place before any money changed hands. Just in case I still have the opportunity to reach you before you buy an automobile, let me give you a copy of my used-car check sheet.
Unfortunately, buying a newer used car can become an emotional decision that happens quickly. Before you know it you're driving around in this car, but you don't actually know how safe it is.
I'm talking about the condition of the front and rear brakes or how much tread remains on the tires. Checking for worn or loose steering and suspension parts also pushes its way to the top of this safety list.

In today's used car market, hard-working people find themselves buying an automobile with 100,000 miles on it and consider it a new car.
When an automobile reaches this milestone the manufacturer often recommends some major services to assure the vehicle has a shot at reaching 200,000 miles safely and efficiently.
Take a look at the common automotive services due at 100,000 miles. Too often the buyer places too much trust in the seller.
They might think the car is up to date on all required maintenance and safety items. However, maybe the seller decided to unload the car instead of spending the money on repairs.
This second rule of what to do after buying a used car becomes more important with a new driver. View this additional information about recommended automobiles for new drivers.

Learn about What Could Go Wrong with this Car
Again, this is probably something that you should have looked into before money changed hands. However, hindsight is 20/20. What we want to do is dig into what items are likely to fail on the specific automobile we purchased.
What we'll accomplish is to gain an understanding of what to listen and look for as we operate the vehicle.
Another thing we'll learn from diving into common problems is what we can expect to spend on this ride in the future.
In some cases we might find out that large inherent issues exist. Let me provide a specific example. The older Cadillac 3.6 L V-6 engine is known for timing chain problems.
If you own this automobile long enough, it will need a timing chain. Another example, becomes an automobile with a known transmission problems.
In either one of these situations it makes sense to consider an extended warranty that covers major engine and transmission problems.

How to Learn about Inherent Automotive Problems
If you type your year, make and model, plus the word problems, into a standard search engine the results that come up on the first three pages could supply a lot of information.
Another outstanding source of information comes from vehicle specific forums. On these automotive fan sites you'll find dedicated and knowledgeable people that actually care about specific makes and models.
Automotive data collection websites also supply valuable information about inherent automobile problems. Some of these businesses specialize in certain automobiles and provide an amazing level of expertise.
Generally speaking, websites like repair pal do an excellent job of reporting common problems and the prices associated with those repairs.
This becomes valuable information for those looking to plan a budget that might include retirement, college funds and car expenses.
When I performed this procedure on an automobile I was about to buy, I found out about a technical service bulletin that covered the transmission.
Specifically, how the transmission shifted and the way it feels to the driver. This information included details about a software update covered under the Powertrain warranty to rectify the problem. Therefore, when I road tested the vehicle I didn't allow this issue to sway my decision.

After Buying a Used Car Final Thoughts
In some cases you read these automotive information articles and you wonder if the author Mark Gittelman takes his own advice. I can tell you that after buying a used car I followed this mantra religiously. Sidebar: I never buy a new car, because I don't want to take the depreciation hit.
Let me provide a specific and recent example. I purchased a 2012 Infiniti M37 luxury sedan. You can see a picture of it below.
This was a lease return that found its way onto a Volkswagen used car lot. Three days after the purchase I took it to the Infiniti dealer in town.
They took my driver's license and registered me as the new owner. I followed all of the steps outlined in this article.
About 60 days after I purchased, we received a letter from Infiniti about a special policy program launched for customer satisfaction purposes.
The letter stated that they had become aware of an inherent problem with the fuel tank filler neck vent. The vent clogs and makes it difficult to fill the tank at the fueling station.
The factory extended the warranty to solve the problem in an effort to satisfy customers. After filling up the car a few times the fuel pump shut off before reaching the full mark.
I took it into the dealership with the special policy letter and had the no charge warranty service completed.
If I didn't take the car to the dealer I wouldn't get notified about any recalls or special policies. If you want to see what my car looks like I posted a video here on the website of me replacing the Infiniti cabin air filter.
Visit the fix my old ride homepage for more information about the information covered here. Find more information about upgrading your old ride and read specific articles about how to reduce maintenance costs.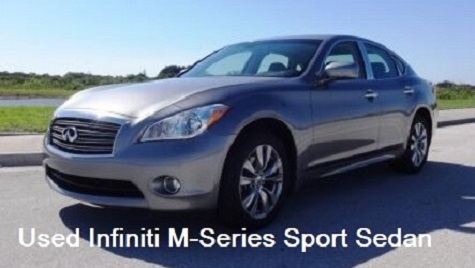 Infiniti M37 Sport Sedan in Liquid Platinum