Automotive Electrical Quiz
I think this automotive electrical quiz is my hardest one yet. People said the first auto repair knowledge quiz I put together was too easy.
After more than 1,700 participants took the first test the average score came in at four out of five correct answers.
So then I created a much more difficult quiz asking visitors to identify strange looking automotive special tools. Nevertheless, site visitors knocked it out of the park and once again stated for the record that the tests I create were just too easy.
Therefore, when I built this automotive electrical quiz I designed it on the hard side. I think even a professional auto mechanic would find it difficult to score 100 percent. I put it up on my car questions answered Facebook page.
After a couple of days the average score is currently three out of seven correct answers per test participant. So I believe I'm on the right track.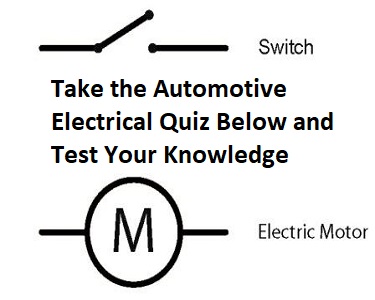 Automotive Electrical Test
You want to create an automotive electrical test that's challenging while at the same time enjoyable. Nobody likes getting all of the answers correct or all of the questions wrong.
Here on the fix my old ride.com website we have a pretty strong automotive electrical section. After you take the quiz follow the links at the bottom.
They take you to pages on this site that can strengthen your do-it-yourself car electrical repair skills.

Car Electrical Repair Practice Test

Get More From the Automotive Electrical Quiz
If you got more than one wrong on the test, consider learning more about the subject. Even on old cars, electrical systems operate and control many subsystems.
When you learn how to follow a wiring diagram you need to understand what the industry standard electrical symbols represent.
Once you learn how to read an automotive schematic like a road map you'll find it leads you to a successful repair. There's one thing that all successful professional automobile mechanics have in common.
They understand the principles and theory that control modern electronic systems. Although we trained for years we didn't walk into the shop and dominate complex diagnosis until we practiced on a few automobiles.
This is why learning to be a professional mechanic combines hands on training with automotive course study. With that said, I will share with you a little trick technicians use to save diagnostic time.
Since time is money, flat rate automotive technicians must apply a logical strategy for electrical diagnosis to uncover electrical problems as quickly as possible.

Author bio : Mark Gittelman is a retired ASE certified master technician, Chevrolet Professional Service Council member and the founder of FixMyOldRide.com. Watch the video on the about Mark Gittelman page to see his credentials, awards and certifications for yourself. Mr Gittelman hand writes all of the articles on FixMyOldRide.com unless indicated otherwise.