Miscellaneous Car Problems
Welcome to the miscellaneous car problems section of the FixMyOldRide.com website. We treat this area like the junk drawer.
Sometimes when people have car problems they don't know exactly what's going on or where to find this information. The same holds true for writing about these somewhat uncommon issues.
Before we explain what you'll find in this section let's point you towards some of the more popular areas of the site.
If you're having check engine light problems you'll find detailed articles covering common scenarios in the sensor and computer problems area. There we posted around 20 articles about common problems that turn on the service engine soon light.
From the main page covering car electrical problems you'll find a wide variety of common failures across a wide range of vehicles. In this area we focus on electrically operated switches known for high failure rates.
These plastic switches that operate the power door locks, power windows and power mirrors probably won't last as long as the automobile. We also have a few articles in there about daytime running lights and brake switches.
Basically, if the component has electricity, running through it, but won't turn on the check engine light you'll find it in the electrical section.
In addition, we started adding some automotive training articles for do-it-yourself driveway technicians. The electrical training area covers diagnostic techniques used by professional mechanics. Finally, another high-traffic location of the website contains information about tune up and maintenance problems.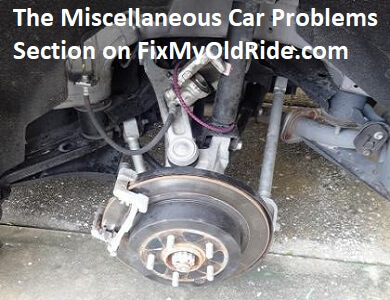 Miscellaneous Car Problems Area
On this page you'll find helpful information that covers regular scheduled maintenance items. Things like Chevrolet oil pan leaks, cabin air filters, coolant leaks, oil change information and spark plugs.
This is one of my favorite sections, because it also provides information that supports do-it-yourself car repair in the maintenance category. Information articles include symptoms of common car problems like noise diagnosis and how a car runs when it has a clogged fuel filter.

Miscellaneous Car Problems Section
Now that you know where to find the more popular stuff let's talk about some of the offbeat items on this page. So what do we find in the miscellaneous car problem section?
As the newest area of the FixMyOldRide.com website you'll find some of the most recent articles posted here.
With that said, the first few covered body and interior problems like sagging GM car door hinges, cheap plastic Toyota door handles and other manually operated car parts with no electricity running through them.
I also started throwing some articles in this section that we might move over to a specialized engine problem area.
Things like defective motor mounts, a bad serpentine belt tensioner and a separated harmonic balancer fail on many popular makes and models.
Even the mighty Honda crankshaft pulley has a high failure rate. These auto repair articles are landing in this subcategory right now.
Basically, if it's not electronic, doesn't require replacement at scheduled intervals and it doesn't turn on your check engine light you'll find it here.

The Miscellaneous Car Problem Articles
Is it too much to ask for a metal interior door release handle on your Lincoln MKZ or Ford Fusion? I guess the answer is yes. See how to replace a plastic broken Ford interior door handle.
The 2005-2010 Dodge Charger and Chrysler 300 cars continue suffering from front end noise. Unfortunately, the 2011-2017 Chrysler 300, Dodge Charger and Challenger have the same parts failing. See how to diagnose and repair defective Tension Struts on Chrysler cars.

This Ford common problem locks your rear super cab passengers in the back like prisoners. The inside door handle fails to operate the release latches. See how to fix the Ford door latch cable problem with an inexpensive repair kit.
I owned a ZR2 special edition Blazer. This truck lasted awhile, but become troublesome when it passed the 75,000 mile mark. The hardest repair I tackled in the driveway was replacing the engine mounts. Learn from my mistakes and save yourself some trouble.
Yes, even the reliable Ford product might need the motor mounts replaced. See how to solve the Ford Focus vibration problem by replacing the engine and transmission mounts. Then see why some Mustangs and Ford Explorer models suffer from crankshaft pulley problems.

If you own a Chevy Silverado from 1999 - 2007 you can have four separate problems with your tailgate. That's why we put together this one stop Chevrolet tailgate resource page.

Did you ever wonder if stop leak products actually work in real world situations? Well as a mechanic I get to see the results of people trying to sidestep car repairs using miracle fluids. See how coolant stop leak works and the chances of it solving your problem.
It's time to talk about the popular Jeep Grand Cherokee and any other Chrysler Jeep automobile with the 4.0 L engine. These engines last a long time, but the belt squeak can drive you crazy. See how to solve the Jeep belt noise problem for good.
Noisy engine operation on the modular Ford V8 engines from 2004 through 2010 often point to timing problems. See how to deal with the Ford Triton timing chain problem on Ford trucks and SUV's.

One of the most common issues on the older cars we focus on is when the headlights get cloudy and reduce visibility at night. They also make our old rides look even older. See how we tackled the headlight lens restoration process on the family car.
Here's a simple repair you can do yourself. Replacing the Chevrolet hood release handle on older trucks from 1995 through 2006 remains a common problem with an inexpensive solution.
Ford cars and trucks built in the 2000 decade might have problems with the ignition key getting stuck. This can cause a no start condition and generate a tow bill. See the recommended solution that costs some money or try the modification that doesn't.
Failure of the Chevrolet Colorado passlock key reading system prevents the truck from starting. See the reset procedure and learn about fixing the root cause of the ignition lock cylinder problem.