Buying a Good First Car
Buying a first car remains challenging for new drivers. The variables in the process can overwhelm anyone.
However, budgets and individual needs play the biggest role in what kind of car you'll end up with.
Here we'll attempt to simplify the process and provide some proven guidelines aimed at increasing the chances of nailing down a good first or a solid replacement automobile.
In this price range the odds are against us so lets try to improve are chances of landing a reliable first car.
Some of the things we'll cover is who built the car, its track record of reliability and the people selling this prized used car.
Finally, we'll even talk about the negotiation process and trying to save a few dollars on the purchase price.
This way you'll have a rainy day fund for fuel and repairs. Trust me, you need to set aside some emergency car repair money just in case.
if you don't spend it, put it towards the down payment of the next ride.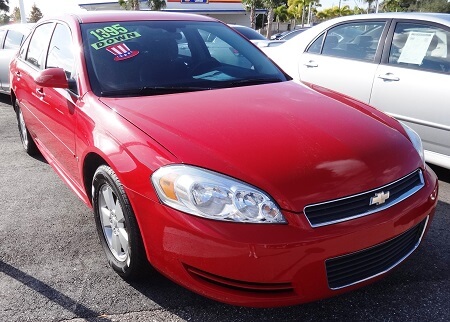 Fire Engine Red Chevrolet Impala
Who Builds a Good First Car
I use to be a buy American freak. In my younger days I would call anybody driving a Japanese or German car a traitor.
The reality is the world has changed and many of these import cars are actually built in the United States.
In fact, Honda made the top 5 cars with the most American made parts on board. Does this mean Honda cars are trouble free.
No, even this company has some minor issues as these cars age. Learn about the most common Honda engine problem on older Accord and Civic SI models.

Jeep vehicles topped the list in case you're wondering. If your a Jeep fan take a look at this article about the Jeep 4 L engine belt problem.
Regardless, I'm still a strong supporter of the American auto manufacturing industry. However, it's hard to recommend those automobiles for a reliable first car.
Although I believe that America has closed the quality gap substantially in the cars they build, this rule of thumb applies to newer automobiles.
Buying the right first car often means finding one that's 10 to 15 years old with 100,000 miles on it. If you compare the maintenance and repair costs of American cars from that era with foreign cars you'll find the imports win this comparison.

Pick a Car with a Reliable Track Record
2007 Corolla A Good First Car
When you buy an old car with high mileage the maintenance history is important. Read this article about costly auto repairs on under maintained vehicles for more details. We will also get a little more into the subject below.

However, for the sake of argument, let's compare similarly maintained automobiles. If we turn back the hands of time and look at cars built 15 years ago, there are a few models that received excellent reliability ratings.

Not only did entry-level cars from Honda and Toyota receive multiple awards for safety and reliability they also sold in big numbers. Therefore, there's no shortage of the Toyota Corolla, Camry and Honda Civic models on the used car market.

These vehicles make excellent first cars, but with one caveat. A lot of these automobiles were also included in the Takata air bag recall program.
Therefore, you want to verify the recall has been performed. You can go to the Honda recall website and enter the vehicle identification number.
Toyota also offers an easy to use recall support website. Both sites provide additional information about this far reaching and ever-expanding campaign.
No one wants to buy a first car with an open recall, but if it turns out the recall is still pending you might be able to use this in your negotiation with the seller.
These issues on another wise, reliable automobile have pulled the prices back. This makes them even more attractive for the first time buyer.
On a final note about the air bag recall, Consumer Reports bundled the information together in a fantastic article.

Buying the Right First Car at a Fair Price
The easiest way to buy a first used car is to head over to the local dealers used car lot. This is not always the best place to start.
Although the dealer would have you believe that most of their inventory comes from local trades it's more likely they bought the inventory at auctions.
A vehicle history report will often show if this as the case, but not always. Although an auction car isn't the end of the world if it's well-maintained it changes the dynamics of the deal.
To clarify this point we're talking about the profit the dealer will make on the sale. They get these cars cheap and they sell them for above retail prices.
This kind of profit margin is why they are still in business and they do have a right to make money. But how much can someone on a limited budget, looking for a reliable car, afford to just give the dealership?

Where to Buy your First Car
Before you take the easy way out and pay too much for an auction car at a dealer, give this method a try. Buy a newspaper and look for genuine private sale cars. Yes, we live in the age of Craigslist and eBay.
However, a few people will advertise in a local paper to sell their 15-year-old automobile with high mileage.
Some newspapers require dealers to disclose in the classified ads. If the paper doesn't indicate a dealership, give the number a call and verify it's a private sale opportunity.

I choose to circle target automobiles and call each number to make sure that it is a private owner before driving out there.
The reason you want to give this a try before you jump on the Internet or head down to the used car lot becomes the quality and documentation that a private sale automobile can offer.
Someone who purchased the automobile with low mileage and did regular maintenance will often save those records.
This information can become extremely important when it comes time to perform your own tuneup and maintenance on this automobile you hope to have for years to come.

Final Thoughts on your First Car
The strategies outlined in the above article are just my opinion and a general rule of thumb. In the end, I would rather have a well cared for, one owner, Pontiac Grand Prix with 50,000 miles on it, then a
Toyota Corolla purchased from auction by a dealer showing 99,000 miles on it. On high mileage vehicles care and maintenance becomes more important than year and model.

In many cases the maintenance history will not be available. And although you would like to trust the used car salesman you probably shouldn't.
Especially if they say the automobile was just traded in by a little old lady that only drove it to church. You need to check this car out before you spend a single dollar on it.
You can take me along by using my printable used car inspection worksheet. If you're not the do it yourself type of consumer seek a professional evaluation.
Many retail auto repair chain stores like Pep Boys offer used car inspection services for around $200. They print you out a nice report with an unbiased third party opinion of the true condition of the automobile.
No one likes to spend an extra couple of hundred dollars, but this is money well spent. After you get your money's worth from that first car learn about upgrading to a better automobile.
With that said, you can also visit the Homepage to see what else this site covers. Use the search field in the right sidebar to search for specific content about your car problem.