The Reliable Old Car
When searching for a reliable old car we often do so because of budget limitations. We want to spend a little bit of money, but still have faith we'll reach our destination.
That is what this article is all about. With that said, this is just an opinionated statement from a retired master technician.
Without further delay, so I don't lose visitors, I'll disclose my pick for a reliable old car right now. The car I choose above all others is the ninth generation Toyota Corolla.
This generation ran from the 2000 model year through 2007. However, in the United States the updated body style didn't hit the dealership until the second half of 2002.
The 02 Corolla pictured here represents the eighth generation body style, but carries the VVTI engine. This entire article is dedicated to why I choose the ninth generation Toyota Corolla.
However, this vehicle ranks high on my list because it's old enough to carry a reasonable price tag.
With that said, my main reason for recommending this generation stems from the four-cylinder 1.8 L, I4, 16-valve DOHC, VVT-I, fuel injected, 130 HP engine.
I'll talk about this engine in greater detail below. Yes, Toyota Racing Development (TRD) offers a supercharger kit that almost doubles the horsepower.
Nevertheless, this engine came with iridium spark plugs and extended life fluids from the factory. This helps the automobile age better than similar year, make and model automobiles.
Stick with me and I'll tell you what breaks on this reliable old car and things to look for when you're shopping for it.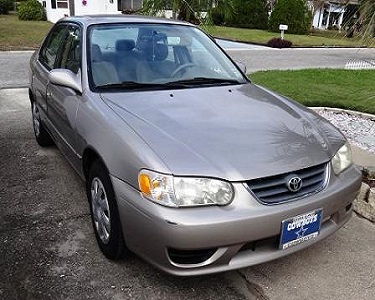 2002 Toyota Corolla LE
Who are you to Recommend Reliable Cars
The Internet can be a rough place so I must point out this is just my expert opinion. I spent more than 35 years working on automobiles at the dealership level.
You can learn more about Mark the mechanic that writes if you want to view documentation. Even though I'm retired from the dealership game I continue to turn wrenches and have a loyal clientele.
I have the unique experience of working on these cars when they were under warranty. In addition, I still am working on them today.
In other words I got to see what was wrong with them when they were brand-new and I continue to see what's wrong with them as they age.
Here, I'm just recommending a reliable old car that provides excellent service at a fair price. With that said, how well the previous owner cared for the automobile up until the point you purchase it becomes the most important factor in its long-term reliability.
Take a look at my used car inspection guide to see how to evaluate used cars. If the previous owner skipped the recommended maintenance and tune-up items the car might not live up to its expectations.
In addition, when an automobile reaches 100,000 and then again at 200,000 miles large maintenance services become necessary. Review these 100,000 mile maintenance services for more information.

The Toyota Corolla a Reliable Old Car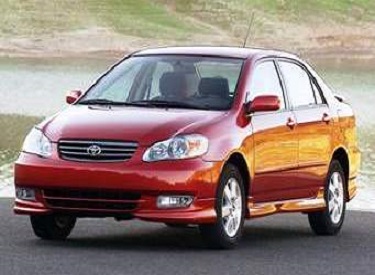 2003 Toyota Corolla S
Believe it or not, the Toyota Corolla launched in 1966. Japan viewed this car as the gateway into the American marketplace.
They understood the economic status of the people that would buy the automobile. They also understood if they made a reliable car at a reasonable price they would experience repeat customers.
These ideas attached to the original Toyota Corolla still stand today. This car company realizes that over delivering to the middle class pays off.
People looking at a good first car or a reliable second car on a budget target vehicles in the 20-year-old range.
When you look at Toyota automobiles from the early 2000's and compare them to Korean cars like Hyundai or Kia, well there's really no comparison.
Although these car Korean companies improve every year, their quality didn't measure up 20 years ago. What I like about the ninth generation Corolla is the advanced technologies available at bargain prices.
You get extended life coolant, iridium spark plugs that last more than 100,000 miles and good quality belts and hoses.
You'll find some of the same stuff on the Lexus product line. When you're looking to upgrade your ride this car makes an excellent choice.

The Toyota Corolla Engine
When you're picking out a reliable old car you want to find one with an engine you can believe in. I believe in the 1ZZ-FE 16-valve DOHC, FI, VVTI, four-cylinder engine.
They still use the VVT (Variable Valve Timing) technology used on this engine on modern-day power plants. The technology allows the engine to produce ample power while maintaining exceptional fuel economy.
The fuel economy part only works if you keep your foot out of the gas pedal. With that said, it's not unusual to see an average fuel economy in the 25 to 30 miles per gallon range.
This is when Toyota started changing the preconceived notion that a compact car would automatically be under powered in exchange for economical operation.
The VVT-I delivers both at the same time. Here is one of my all-time favorite things about the 1zz – FE 1.8 L engine.
It doesn't have a timing belt. Instead, it has a timing chain. I've taken this engine apart a few times and I must say the factory timing chain is substantial.
One of the things I don't like about many Toyota products is the necessity to replace the timing belt. And what happens if you don't replace it?
Long story short, if you ignore timing belt maintenance and it breaks, you can ruin the engine. When you add these things together you can find a lot of automobiles that offer less for the same money.
What Goes Wrong with a Toyota Corolla

Although I like this car because it's reliable it's still an automobile. You can't put 200,000 miles on a 20-year-old car and never have to fix it.
With that said, the Corolla has a few nagging and common issues. Like many of these Japanese cars the headlights turn a milky white.
I wouldn't even bother trying one of those restoration kits on it. In a little while they turn milky again. Replace both front Toyota Corolla headlights with new assemblies for around $100.
The 1.8 L four-cylinder engine can develop minor oil leaks. However, the most common areas, leak from the front side of the engine.
These locations include the timing case cover and the front crankshaft seal. When the engine leaks oil from these areas it drips onto the serpentine drive belt. So you have to replace the belt after the oil leak is resolved. As the engine spins it sprays the oil all over the engine compartment.
This makes leak diagnosis difficult. The best way to approach these oil leaks becomes to completely clean the engine.
Then run the vehicle on several short trips and re-check for leaks. In extreme circumstances, you want to use an engine oil leak dye to help you trace the leaks.

A far less serious issue, but none the less annoying is broken interior door handles. The interior door handles, all carry the same part number.
They make these from what appears to be an inferior grade of plastic that doesn't age well. I've replaced every door handle in a customer's car that owns a 2003 Toyota Corolla. In fact, were starting to do it again.
It seems that the plastic interior door release handles last about 10 years, but your results might vary. Luckily you can get a complete set of four interior door handles in the $10 range on Amazon.
Although this repair might not be right for everyone it does fall within the DIY mechanic skill level for many.
Minor oil leaks and some broken interior plastic parts remain a small price to pay for a reliable old car you can count on.

Make your Toyota Corolla Faster
Supercharger for the 2003 Corolla
Okay now it's time to talk about the available supercharger for the Toyota 1.8 L engine. Of course, I don't recommend this upgrade. It defeats the purpose of buying a cost-effective reliable old car.
Nevertheless, I was once young and like to go fast. I took a perfectly good car and tore it apart to make it go faster. So I understand that some people might want more information about this.
You can visit the (TRD) Toyota Racing Development parts website for more information. The kit is not cheap. In fact, it runs in the $3000 price range. There are plenty of YouTube videos showing Toyota Corolla and Matrix automobiles running the supercharger upgrade.

Author bio : Mark Gittelman is a retired ASE certified master technician, Chevrolet Professional Service Council member and the founder of FixMyOldRide.com. Watch the video on the about Mark Gittelman page to see his credentials, awards and certifications for yourself. Mr Gittelman hand writes all of the articles on FixMyOldRide.com unless indicated otherwise.