Power Mirror Switch Problems
When the power mirror switch fails it becomes a lot more than inconvenience. Proper side mirror adjustment is crucial for monitoring the blind spot while driving.
On Chevrolet trucks and sport utility vehicles from the early 2000 model years, failure of the power mirror system remains a common issue.
In many cases the cheap plastic switch that fits in the door panel armrest starts to provide intermittent operation.
However, it's also possible for the plastic gears to strip when drivers try to manually adjust a power mirror that's not working.
In this brief article we'll talk about a minimal amount of diagnosis required to isolate a bad power mirror switch.
In addition we'll talk about trying to fix the old switch and installing a power mirror repair kit that consists of replacement nylon gears.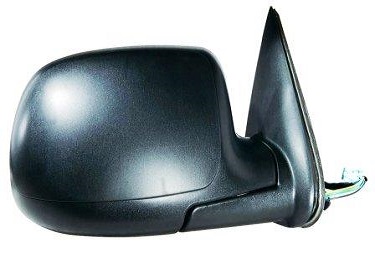 Power Side View Mirror
Symptoms of Failed Power Mirror Switch
When the power mirror switch fails it usually starts acting up before it completely stops working. Many drivers complain about the mirrors inability to adjust in certain directions.
In other words, it will work in the up and down position, but not the left and right. Of course, it could be the other way around.
They use to recommend taking apart the switch and trying to repair the delicate contacts. However, since the failure rate of the switch increased the prices to buy a new one have decreased.
It's the power of supply and demand. When Amazon gets in the ballgame not only do they push down the price, but they can provide next day delivery.
The switches I've disassembled and tried to repair, didn't hold up for the long haul. So at this point I'm just recommending replacement to my Chevy and GMC truck customers.
In my town GMC Sierra pickup trucks and Chevrolet Silverado's sold in extremely large numbers from 2000 through 2007. They continue to sell well, because the largest dealer in town gets involved with community sponsorships.
Little did I know I would continue to see these trucks for a wide variety of electrical problems. The funny thing is, I'm starting to see the next generation trucks from 2007 through 2013 with an updated switch doing the same thing.
All of them needed the Chevrolet daytime running light repair. Most of them came back for a headlight dimmer switch when their dash lights stop working.
With those problems resolved, they experienced additional down time but now for the power mirror switch replacement.
Let me set the record straight. I'm not saying these GM pickup trucks are unreliable or a mistake to purchase. I respect these trucks and the people who bought them.

All the vehicles that come to visit me have well over 100,000 miles and some approaching 300,000 miles. When you operate these cheap plastic switches long enough they eventually fail. Plastic car parts remain unavoidable.

More Power Mirror Problems
Unfortunately, when these switches stop moving the power mirrors drivers are tempted to manually adjust them by pushing on the edges of the glass.
People can get away with this a few times before the plastic gears strip. You can hear the clicking and popping from the mirror as you force it to move. Each time it does move it takes the point off of the delicate nylon gears.
Moving it up and back quickly rounds the gear off and begins the stripping process. On warranty repairs General Motors forced us to install a new nylon gear kit. They did this in an effort to save money, because the power mirrors were expensive.

With the total cost of the power mirror available on the aftermarket coming in at around $40, it doesn't seem to make sense to try to find a gear kit that cost $30.
However, when I price these very same mirrors from the dealership parts department I got sticker shock with an almost $200 cost per side.
Of course, your results may vary and prices do fluctuate on the dealership level parts with the area of the country.
Some dealers also try to push the profit per sale well past the cost plus 30 percent average markup.
Also note, that aftermarket companies provide specialized towing mirrors with larger glass and a wider variety of power adjustments.

Replacing the Power Mirror Switches
These power mirror switches that fit into the armrest on the driver side door panel remain a fairly simple repair.
They're held in by latching clips. Therefore, there's no screw to remove and it's not necessary to remove the door panel.
With that said, to release the push clip you'll need a thin blade screwdriver or a trim removal tool. Slightly prying up on the rear of the bezel allows you to push in on the release tab for the snap retaining clip.
Although it's not difficult, be careful with the plastic housing on the armrest. We continue to develop new content about common problems with automotive lights and switches.
Learn more about this subject in the automotive electrical repairs section. Visit the fix my old ride.com home page to find out what else we cover on this website dedicated to older vehicles.

Author bio : Mark Gittelman is a retired ASE certified master technician, Chevrolet Professional Service Council member and the founder of FixMyOldRide.com. Watch the video on the about Mark Gittelman page to see his credentials, awards and certifications for yourself. Mr Gittelman hand writes all of the articles on FixMyOldRide.com unless indicated otherwise.